Juenessa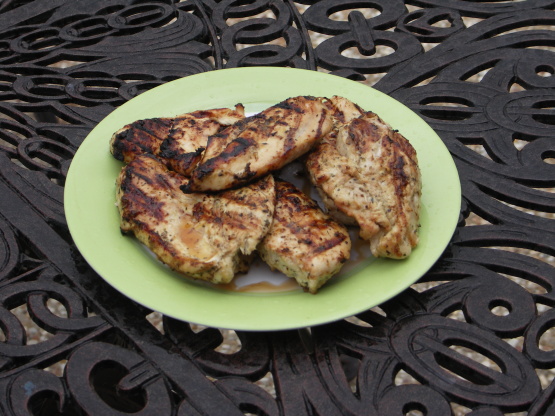 A simple marinade that makes a wonderfully flavorful and moist chicken. Alternately you can grill the chicken after it marinates. Time does not include marinating.

Saw the ingredient list and knew it was something I would enjoy but considered the comments from the other chefs in preparing this recipe. My two changes were to add 1 teaspoon of orange zest and 1/4 teaspoon of garlic powder. The former brightened the citrus flavor while the later created some balance to keep the dish from being too sweet. Cooked this on my indoor grill and served dinner with grilled corn on the cob and grilled potatoes. Lunch the next day was a simple salad tossed with the leftover chicken both were excellent. Made for Went to the Market game.
Rinse the chicken and pat dry. Place in a sealable plastic food storage bag.
Pour a mixture of the orange juice, canola oil, honey and basil over the chicken, tossing to coat; seal tightly.
Marinate in the refrigerator for 6 to 8 hours, tossing occasionally. Drain, reserving the marinade.
Brown the chicken on both sides in the vegetable oil in a skillet; drain. Arrange the chicken in a glass baking dish. Pour the reserved marinade over the chicken.
Bake at 350 degrees for 25 minutes or until tender. Serve hot or cold.