Kim D.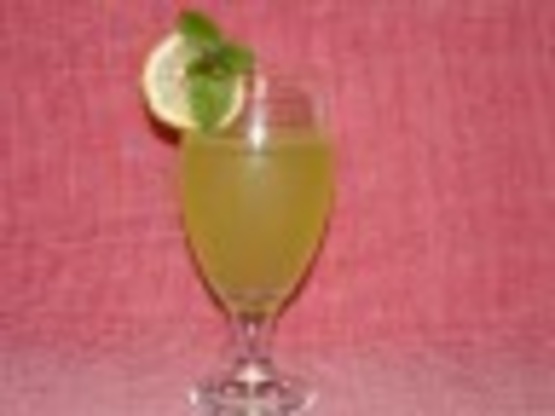 In my quest to find recipes to take advantage of the bumper crop of basil I have right now, I came across this one found in the May 2003 issue of Sunset magazine. This is very refreshing! It's especially fun if you have lots of different varieties of basil available to you.

What a 5-star delicious recipe! I'd never heard of basil lemonade before, but thought I'd give it a shot. I doubled the recipe and got the batch good & cold; the end result was fantastic! A very magical & refreshing drink. Definitely a keeper! Thanks for sharing this one! :)
In a 1 1/2 to 2 Qt glass bowl, combine basil leaves and sugar.
With a wooden spoon, crush leaves with sugar until thoroughly bruised;
add water and lemon juice,
Stir until sugar is dissolved, about 2 minutes;
Taste and add more sugar if desired.
Pour through a strainer into ice-filled glasses.
Garnish with sprigs of fresh basil.
*Note:The type of basil you use will contribute to the'personality' of this drink.
Dark purple basil tints the lemonade pink and has a milder flavor than green varieties.
Lemon basil adds a lemon-drop essence.
Cinnamon and Thai basils make this more spicy.