Prose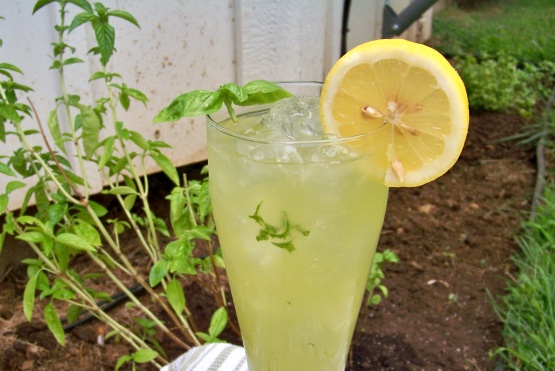 From Cooking Light: "All basils add fragrance to lemonade, but colored and scented varieties contribute extra personality. Dark purple basils tint the lemonade a pretty pink but have a milder flavor than green varieties. Lemon basil adds a lemon-drop essence. Cinnamon and Thai basils contribute spicy overtones. You can make the lemonade up to 1 day ahead; cover and chill."

Top Review by Prose
My basil plants have been doing really well so I've been looking for different things to do with basil. This was a refreshing change of pace, but it was very watery when made as directed. I had to add more lemon juice and sugar after tasting it. I didn't bother to strain it, since I like little bits of leaves floating in mine. Will definitely make again next summer! Made for Magic of Herbs tag game in the Photo Forum
In a 1 1/2- to 2-quart glass measure or bowl, combine basil leaves (see notes) and sugar.
With a wooden spoon, crush leaves with sugar until thoroughly bruised. Add water and lemon juice.
Stir until sugar is dissolved, 1 to 2 minutes.
Taste and add more sugar if desired. Pour through a fine strainer into ice-filled glasses. Garnish with sprigs of fresh basil.