Basil-Garlic Cheese Bread
lazyme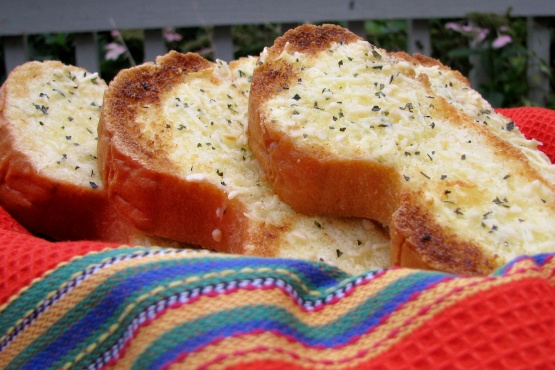 This is a recipe from Simple and Delicious, posting for safe keeping. Here's a crusty, crunchy bread that goes together in minutes and is great with all kinds of pasta dishes!

I am so sorry that I forgot to review this recipe 2 wks ago when made for company. While this easy-fix & ingredient-friendly recipe was essentially made as written, I did alter the presentation slightly by using sml crusty French rolls so I could plate them as part of a starter course. I am glad I made extras & had them on the table because my guests devoured them w/an excess of greed. Thx for sharing this recipe w/us. :-)
In a small bowl, combine the first six ingredients; spread over cut sides of bread. Place on an ungreased baking sheet. Broil 4-6 inches from the heat for 2-3 minutes or until lightly browned. Cut into 2-in. slices.