Basil Chive Red Potato Mash
Boomette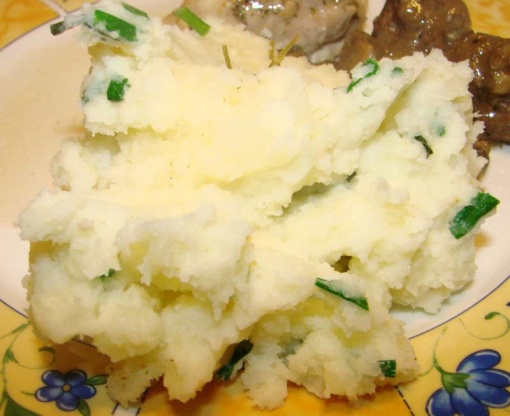 This recipe is courtesy of Dave Lieberman from the Food Network. These potatoes are creamy and rich but the fresh herbs give them a really fresh taste. The color and texture that the potato skins give the mash is wonderful, and it also means less work because you get to skip the peeling!
Maybe the color is not like it's supposed to be. But I don't like skinned potatoes. Maybe I should have tried. I used Mrs. Dash Seasoning instead of salt. I used a bit more of chives and less basil. It was very good and easy to do after work. Thanks Juenessa :) Made for Holiday tag.
Put the potatoes in a medium saucepan and pour in enough cold water to cover them by a couple of inches.
Toss in a handful of salt.
Bring the water to a boil and cook until the potatoes are tender when poked with a knife, about 25 minutes.
Drain the potatoes and return to the pan. Add the cream and butter and let the whole pot sit over very low heat until warmed through.
Add chives and basil to the pot with the potatoes and mash the potatoes coarsely. Season with salt and pepper.