Basil Chicken With Broccoli
joolzcd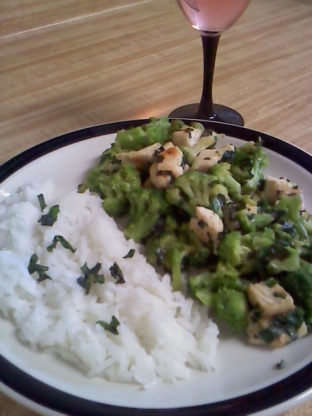 The original recipe is Thai Basil Chicken w/Broccoli from Sparkrecipes, but this is my modified version. Also good with asparagus or cauliflower instead of or in addition to broccoli.

Very easy and very good. I did change a little bit. I added a bit of agave nectar to give the dish a sweetish taste. This might not have been necessary but I didn't have the full 1 cup of fresh basil. I also added a touch of cayenne pepper for a bit of spice!
On medium high, heat pan with oil.
Fry garlic until fragrant.
Add onions and chicken.
Stir-fry chicken until it just turns white.
Add broccoli and fry for about 1-2 minutes.
Stir in basil and cook until basil begins to wilt.
Serve warm with rice.