Basil Chicken and Cashew Nuts
This recipe comes from Easy Chinese cookbook by Elizabeth Chong. I will add more vegies & omit the sugar.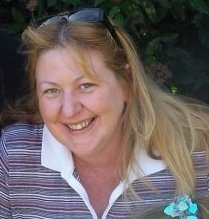 Top Review by Jubes
Made this without the chili (just because the children dont like it) and added more veges. We loved it. I think the cashews were great in this dish and the fresh basil made this stir-fry great. We left out the fish sauce as well as I couldn't find one in the supermarket that was gluten free. We will be making this dinner again.
Heat peanut oil in a pre-heated wok. Fry the cashew nuts until they are a light golden brown. Remove nuts onto absorbent paper.
Heat oil again in the wok. Stirfry onion and chili pepper and garlic until it is light brown.
Add 3/4 cup basil leaves and saute until the mixture is fragrant.
Add chicken slices and continue to stirfry all ingredients over moderate heat for approximately 2 minutes until the colour of the meat changes.
Add cashew nuts, remaining basil leaves.
Stir in the palm sugar, squeeze of lime or lemon and pinch of salt and sprinkle in the fish sauce.
Serve with rice.