Lt. Amy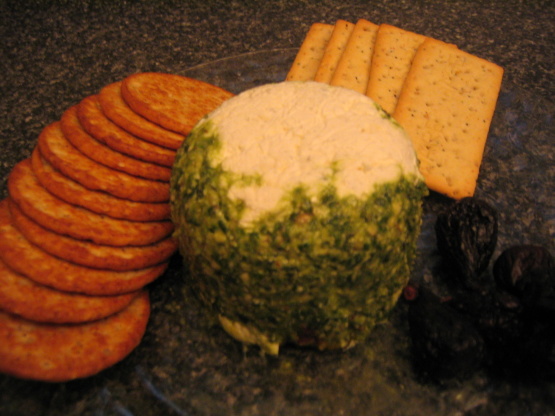 This is an adopted recipe that I've not yet had the chance to try, though I think it looks wonderful. Reviews by anyone who tries it, especially before I do, will be appreciated. Prep time includes 24 hr chilling time.

My sister used to make this years ago and I remembered it well. I made it this weekend for a party and my memory served correct. It is rich, looks lovely and was a huge crowd pleaser. Everyone kept asking where I bought it. This recipe is the same as my sisters except hers calls for 1 cup of parmesan and only 1/2 cup of parsley.
Combine the cream cheese and Roquefort in a bowl.
Mix until smooth.
Set aside.
Combine the spinach, parsley, basil and garlic in a bowl of a food processor.
With the motor running, slowly drizzle the oil through the food tube.
Continue processing until smooth.
Transfer the mixture to a bowl.
Add walnuts and Parmesan and mix well.
Line a 5-½-x2-½-loaf pan with plastic wrap, leaving extra wrap to hang over the sides.
Spread 1/3 of the cheese mixture evenly.
Next, spread ½ of the pesto mixture and arrange a layer of the sun dried tomatoes on top.
Repeat the cheese, pesto and tomato layers.
Finish with the remaining 1/3 cheese mixture.
Wrap and refrigerate for 24 hours.
TO SERVE: Allow the loaf to come to a room temperature about 30 minutes.
Invert it onto a platter and provide a cheese-slicing knife.
Have a basket of crackers and bread close by.