Rita1652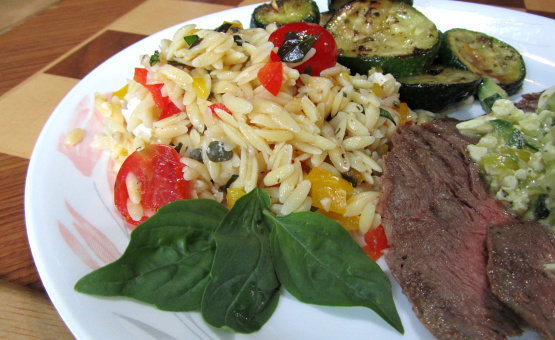 This is a nice side dish for spring or summer. It goes very nicely as a side for fish or seafood. Feel free to adjust the amount of garlic to your taste. The orzo pasta can be cooked up to 4 hrs ahead: cook and drain, then rinse under cold water; drain again and store covered in the refrigerator. Found in Sunset magazine.
Bring 3 qts of water to a boil in a large pot. Add orzo and cook until pasta is just tender to bite, ten minutes. Drain orzo and return to pan.
Meanwhile, finely chop bell peppers, set aside.
In a food processor, combine butter, basil and garlic. Add this mixture to orzo in pan. Stir over medium-low heat until butter is melted and pasta is hot.
Stir in peppers, tomatoes, cheese and capers, Pour onto a rimmed platter and serve hot, warm or at room temperature.