Basil Butter Garlic Bread
ImPat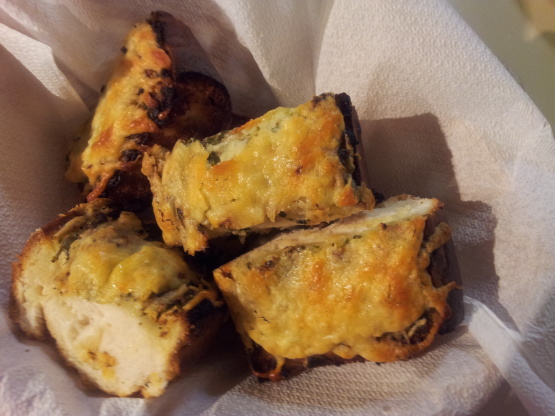 Garden overflowing with basil? Look no further for a recipe that will use a generous handful! From Tasty Kitchen.

Top Review by ImPat
I made a full batch of the butter and added more garlic and still would have liked more but then I am a garlic fanatic though only used half as I was only serving 3 of us and due to tastes I had to use a mild cheddar instead of parmesan cheese and I did taste the butter before spreading and loved it but I feel that it may be better to omit wrapping in the aluminium foil and baking as my end result was that the bread was rather dry from the second baking to brown the cheese (maybe the grill/broiler would be the better way to go as it wouldn't cook the bread so much). Will definitely be using the other half of the butter (in the freezer at this point) which I think a slice over a steak would be superb. Thank you Sharon123, made for Please Review My Recipe.
Combine all the ingredients except the bread and cheese in a food processor, and process until smooth. Season with salt and pepper.
Cut open the loaf of bread and spread both halves with the basil butter. Put the halves together and wrap in aluminum foil.
Bake for in a 400ºF oven for 10 minutes.
Remove the bread, separate the halves and load them up with Parmesan cheese. Return them to the oven and either crank up the heat to 500ºF or put them under the broiler.
Cook until the cheese is melted, bubbly, and starting to get brown. Serve!