loof751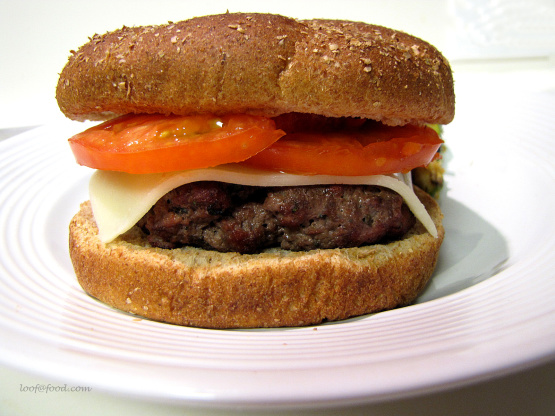 Chopped fresh basil leaves add a welcome spark to these hamburgers and wonderfully capture the taste of summer. Grilling brings out the best flavors in the ground beef as well as the basil. They're a pleasant surprise at a family cookout.

Wow - great and flavorful burgers! I made 2 small adjustments: sauteed the onions before adding them to the ground beef (just don't care for them raw) and used mozzarella cheese instead of jack cheese. The basil flavor is very prominent in these and the addition of the red wine to the beef mixture was great. Served on wheat buns with the cheese and fresh tomato slices and really enjoyed - thanks for sharing the recipe!
In a large bowl, combine the basil, onion, bread crumbs, wine and garlic salt. Crumble beef over mixture and mix well. Shape into eight patties.
Grill, covered, over medium heat for 5-7 minutes on each side or until a meat thermometer reads 160° and juices run clear. Top with cheese if desired. Serve on buns. Yield: 8 servings.