Basically the Best Bruschetta Ever
Nimz1466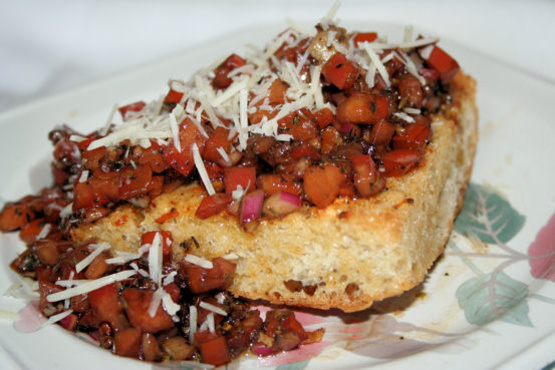 I've enjoyed bruschetta in the past, but it always seemed to be lacking some zip so I started experimenting. Now, I have a bunch of people asking me to can it and give them some! Hope you enjoy as much as the rest of them!

We loved this. Very tangy taste to it. I think I'll decrease the Balsamic vinegar a little next time because it was a little much for us. I substituted red onions for the vidalia because of personal taste and it worked well. My DD and I loved it as a salad to steak and shrimp. Thanks for sharing.
combine all ingredients above and refrigerate for several hours, check for taste and season accordingly.
(If you find it to vinegary for your taste simply add some sugar and olive oil).
Serve on garlic bread with some parm cheese (the fresh, block kind you grate your self) or bake on the bread with a little feta or assagio cheese for a change of pace.
Enjoy.