Basic White Bread (For Bread Machine)
cindyp1958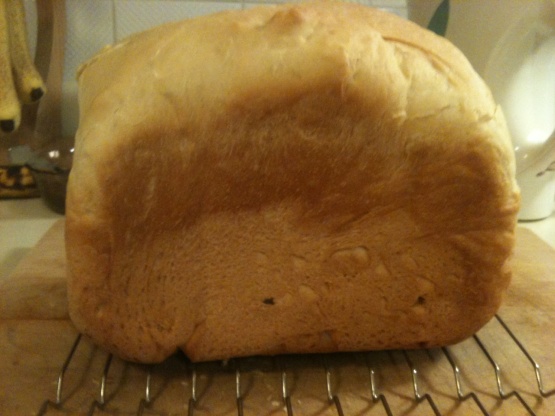 This recipe came with my Black and Decker All in One Horizontal 2 lb bread maker. I am posting the recipe here so that I can not ever misplace it:) This recipe also make great buns!

I was about to throw out my bread machine, then I tried this recipe and created a perfect loaf of white bread that my whole family loved. I have the Black & Decker B6000C, and every loaf I made (3 before this one), was either too high and stuck to the top, or got stuck on the sides/bottom and was mangled coming out of the machine. For this loaf I used the 2lb, light setting, added a 15 minute delay time (as instructed in the recipe), used a plastic bread knife around the edges after backing was complete, then jiggled the heck out of the bread pan to release the loaf and it came out perfectly. Yeah, I can finally make a great loaf of white bread. Thanks!
For Bread Measure ingredients in order listed into baking pan Insert baking pan into unit and close lid Select BASIC setting and choose REGULAR or DARK crust.
Push start button.
(15 minute delay before mixing begins) Timer will signal when baking cycle is complete.
Using pot holders, remove baking pan from unit and carefully turn bread out of baking pan.
Allow to cool before slicing.
For Buns: Prepare bread recipe and use DOUGH setting When cycle ends, divide dough in to 16 small or 24 medium equal pieces.
Roll into balls and place on greased baking sheet.
Cover and let rise until double in size about 50 minutes.
Bake at 375 degrees (preheated) for 20 minutes.