This is the recipe that came with my Cuisinart waffle maker. Tasty and light.
Directions
Add dry ingredients to mixing bowl and stir to mix well.
Add remaining ingredients and blend until smooth.
Let batter sit for 5 minutes before using.
Use less than you think on your 1st waffle, spreading batter with a non-stick spatula. Batter spreads and rises, so you don't want to overfill your waffle iron.
Cook until done--varies depending on temperature of your waffle iron.
Reviews
Most Helpful
Thank you. I made this once as is, and the next time I added 1 Tablespoon brown sugar and 1/2t. to 3/4 t. of vanilla. It just added a bit of sweetness. My husband loves it, plus it is EASY to throw together on a saturday morning. Even the night before you can mix all the dry ingredients and place a cover over the bowl, so you only have to add the wet ingredients in the morning for an even FASTER, recipe!
This recipe did not dissapoint. Very nice texture, good flavor. In the middle of making them, I found I was out of baking powder. Used only the baking soda and they turned out fine. I'm saving this one for sure.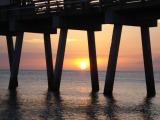 Very yummy. It made six waffles, so any more than 2 people and you might want to double the recipe. My roommate and i ate the whole batch!