Basic Sugar Cookie Dough from Good Housekeeping
Prep 1 hr 30 mins
Cook 30 mins
This is an easy, low sugar recipe from Nov 07 Good Housekeeping Magazine. I used it for my rolled cut cookies as well as the base dough for my snowball cookies.
Directions
On waxed paper, combine flour, baking soda, and salt.
In large bowl, with mixer on medium speed, beat butter and sugar 1 minute or until creamy, occasionally scraping bowl with rubber spatula. Add egg and vanilla, beat until well mixed. Reduce speed to low; gradually beat in flour mixture just until blended, occasionally scraping bowl. **This recipe calls for butter with no substitutions because the butter not only gives the best flavor, but also makes the dough more manageable. Margarines and spreads are too soft to produce a dough that can be rolled easily.
Cover with plastic wrap; refrigerate 1 hour for easier handling.
Heat oven to 400*.
Lightly flour your rolling surface, roll out 1/3 of the dough at a time. Keep remaining dough refrigerated.
Place cut cookies about an inch apart on ungreased cookie sheets.
Bake 5 to 9 minutes or until edges are lightly golden brown. Remove immediately from cookie sheets place onto cooling racks.
Most Helpful
This one was NOT very tasty. :(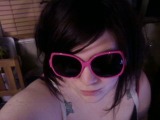 Such a good recipe! I hope to find one perhaps a tad healthier, but this was one is delicious. It wasn't too easy for me since a mixer is one item I decided I couldn't give room to in my super tiny apartment, but it was still possible to make by hand - just took some more time and work. I made them on Friday and they're still tasting great and not stale on Sunday!
An easy-peezy recipe! Made these with my after-school program for our end of year party. The cookie has a light sweetness and the dough was easy to work with. I decorated them using a technique from a Martha Stewart Kids mag. This is a keeper!