Prep 15 mins
Cook 1 hr 10 mins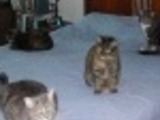 According to Lily Binns, the basic formula for stuffing (white bread, onions, fresh herbs, and lots of butter) is the most satisfying. In fact it usually upstages the turkey. I made this stuffing for Thanksgiving Day 2007. I cut back on the butter (to 6 tablespoons), and if you don't like a VERY moist stuffing you'll definitely want to pare down on the stock (original recipe called for 3 cups and I changed to 1 1/2). Recipe of the week in The Week magazine, originally from Saveur.
15 tablespoons butter
6 celery ribs, finely chopped
2 onions, finely chopped
1 bay leaf
black pepper (freshly ground)
1 tablespoon sage, finely chopped
2 teaspoons marjoram, finely chopped
2 teaspoons savory, finely chopped
2 teaspoons thyme, finely chopped
1⁄2 teaspoon nutmeg, grated
10 cups white bread (toasted, 1/2 inch cubed and crustless)
1⁄2 cup parsley, finely chopped
2 eggs, beaten
1 1⁄2 cups vegetable stock (more or less for moister or drier stuffing) or 1 1⁄2 cups chicken stock (more or less for moister or drier stuffing)
Directions
Preheat oven to 400 degrees. Grease a 15-cup baking dish with 1 tbsp butter; set aside.
Heat 10 tbsps butter in large skillet over medium-high heat. Add celery, onions, bay leaf, salt and pepper to taste; cook until golden brown, 18-20 minutes.
Add sage, marjoram, savory, thyme and nutmeg and cook until fragrant, about 2 minutes. Discard bay leaf.
Transfer onion mixture to large bowl. Add bread, parsley, and vegetable or chicken stock; season with additional salt and pepper to taste. Add eggs and mix.
Transfer mixture to prepared dish, press down, and dot with remaining 4 tbsp buttter. Cover with foil and bake for 30 minutes. Uncover and continue baking until deep golden brown on top, about 20 minutes more.