Basic Spaghetti Meat Sauce
Redsie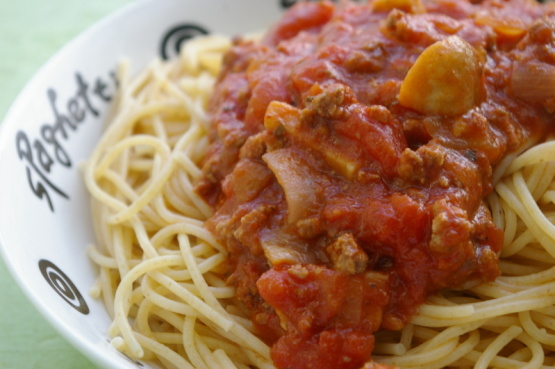 This recipe is a result of the ingredients i had on hand, very meaty. Feel free to adjust to your taste, more garlic, etc.

Absolutely wonderful basic meatsauce. I let it simmer for 2 hours because company was late and it turned out soooo yummy. Wasn't sure how much tomato sauce/paste/diced ratio to add, and this recipe hit it right on spot. Thanks!!
Heat butter and olive oil over medium heat in saucepan.
When butter is melted, add onions and garlic; cook until onions are soft.
Add beef and brown, drain if desired.
Add all remaining ingredients and simmer for 30-45 minutes, stirring occasionally.
Serve over cooked pasta of your choice.