Jubes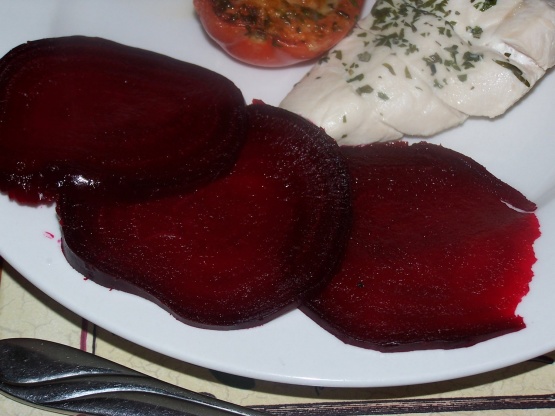 Roasted beetroot. Roasting beetroot brings out it's flavour. This is far better than any tinned beetroot that you will buy. Roast beetroot with the skin and tops on then leave to cool. The skin will fall away leaving a brilliant red bulb. Use gloved hands to peel the beetroot or you will find that your hands will be stained from the red beetroot juice. If you use larger beetroot- add in some cooking time. The easiest is to try for beetroot that are similar in size.

Apparently a couple of my reviews didn't stick, so here goes again! This is a terrific recipe - easy and tasty according to my DH! (He is the beet eater in my house and the one I chose this recipe for). I had no idea how to prepare beets, but made them just as directed here and DH LOVED them. Thank you for a tasty and easy way to make a favorite dish for my hubby! **Made for Oct 08 Aussie Recipe Swap**
Preheat the oven to 180ºC (350ºF).
Wash the beetroot and trim the top and bottom of the root without damaging the skin too much.
Place on a baking tray with the oil and water. Tightly cover the baking tray with foil.
Bake for 45-60 minutes or until the beetroot is tender. Check after 25 minutes and baste with the liquid to ensure they don't dry out (add more water to the tray if required).
Set aside to cool before peeling off the skin - wear gloves to protect your hands from staining. Slice or cut into wedges.