Dine Dish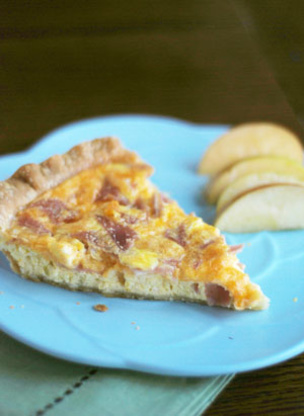 A very basic recipe for a tasty meal with endless possible variations.
For some reason I'd always been afraid to make quiche, as if it were some arcane art that only could be done in eldritch ceremonies by Culinary Elders. This simple recipe vanquishes that fear, and gives the reassuring lesson that quiches are just eggs with some stuff thrown in. I cook and chop a few thick slices of bacon, cook some onion in a bit of reserved bacon grease, then add in chopped spinach, cut asparagus, feta, salt, pepper, to the whipped-to-heck egg and milk mixture. Turns out delicious every time. 4-rather than 5 stars because, though this recipe is excellent inspiration, it leaves much to interpretation, and omits seasoning.
5

large eggs

177.44

ml milk

1

frozen 9-inch deep dish pie shell

473.18

ml shredded cheese or 473.18 ml chopped drained cooked vegetables or 473.18 ml diced deli meat, any type (or chop up leftover slices) or 473.18 ml any other cooked diced meat or 473.18 ml ground beef or 473.18 ml seafood or 473.18 ml poultry
Preheat oven to 350 degrees Farenheit.
Beat eggs in a large mixing bowl.
Add filling and milk and mix well.
Pour mixture into frozen pie crust.
Place quiche on cookie sheet and bake on the middle oven rack for 45-50 minutes, or until top is browned and a knife inserted in center comes out clean.
Serve with a crisp green salad or maybe some fresh fruit on the side.