Katzen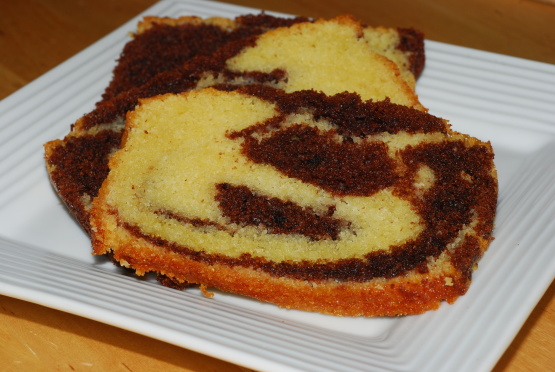 A very easy recipe to follow--makes a nice dense pound cake. Add coco powder for a chocolate pound cake.

For taste and texture, this cake is a 5 star. Dense. Moist. Exactly what you expect for a "pound cake". However, I had some issues with the recipe... I thought 30 minutes didn't sound like long enough to bake a loaf-style cake, and it wasn't. I ended up putting it back in the oven for "just 7 more minutes" several times. I lost count. But I probably baked it for about an hour. It was nowhere near set in the center after even 45 minutes. Also the sides of the cake sort of collapsed inwards a bit, so they looked "dented". I've never had a loaf cake do that before. I suppose it may have been because I was checking it in the oven so often during the time it was rising. Nevertheless it tasted great. We used it as a foil for fresh nectarines and sweetened, condensed milk. Would make again, but sure would like to avoid the issues with the dented sides. Oh, a footnote... 3 eggs was less than half a pound, 4 eggs was too much. So I used 3 eggs and one egg white. The batter for this cake comes out very rich and thick, almost like taffy. It tastes practically like vanilla ice cream (before baking, of course).
Preheat oven to 350°.
Add all the ingredients to a bowl of a cake mixer.
Beat on high for 7 minutes.
Grease a loaf dish.
Pour cake batter into dish.
Bake for 65 minutes; check doneness with toothpick or cake tester.
Allow to cool covered with paper towel for 30 minutes.
Transfer to cooling rack and allow to cool covered.
Once cooled, cut into slices and serve.