krusty2316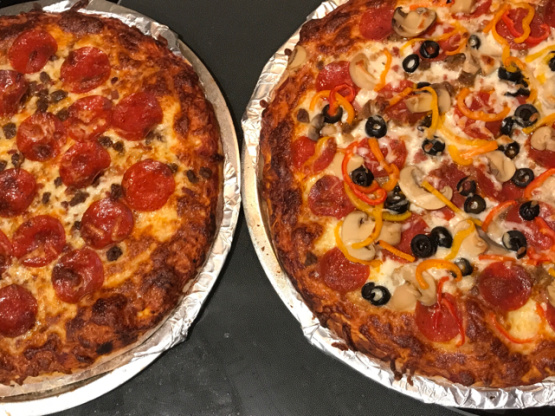 This is my basic pizza dough recipe. It is good for stromboli also. It takes a bit of time but it is more economical than store bought crusts...and it tastes better too!

This is such a great recipe! I make this in my bread machine, and then when it's finished the dough cycle, I take it out and let it rest in an oiled bowl for another hour, then roll it out for pizzas. It has become a firm favourite in our family!
Combine sugar, water and yeast in a measuring cup or small bowl.
Combine flour and salt in a large bowl and make a well in the center.
Pour yeast mixture and oil in well and stir into dry ingredients until you have a soft dough.
If dough is too sticky, add a bit more flour.
Knead until smooth on a lightly floured surface.
Place in an oiled bowl, cover with a towel and let rise until doubled.
IF YOU HAVE A BREAD MACHINE skip the above steps and just put the ingredients in according to the machine's instructions and use the "dough" setting.
Punch down and let rest for 10 minutes.
Makes 1- deep dish or 2- 12-inch pizza crusts.
To bake, top with your favorite sauce, cheese, etc., and bake at 450°F for about 15 minutes or until crispy and cheese is bubbling.