CandyTX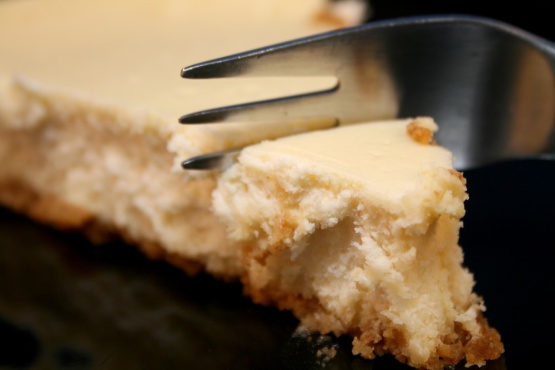 Basic cheesecake; no lemon, no sour cream.

This is a great recipe. I've used one that was slightly smaller but still very similar. I am by no means an accomplished chef and need some more practice on my crusts, as they never seem to stick together as well as I'd like. Also, I've seen some peoples' reviews wishing the filling was a bit fluffier. Here's a quick tip for that with the same recipe: separate the egg yolks and whites. Mix the yolks in when the filling calls for eggs; keep the whites separate til the end, beat the egg whites until stiff, and then fold the egg whites into the rest of the batter. Same great taste, and the custard will come out nice and fluffy.
Preheat oven to 325F degrees.
Combine crumbs, sugar and melted margarine and press onto the bottom of a 9-inch springform pan.
Bake for 10 minutes, remove from oven and raise oven temperature to 450F degrees.
To make filling, combine softened cream cheese and sugar in a large bowl with an electric mixer, beating at medium speed until well mixed.
Add eggs, one at a time, mixing well after each addition; blend in vanilla then pour into crust.
Bake for 10 minutes at 450F, then reduce heat to 250F and for 25-30 minutes more, or until set.
Loosen cake from rim of pan; cool before removing rim of pan.
Chill; top individual slices with desired topping, if any, just before serving.