Basic Oven-Cooked Meatballs
Maiden77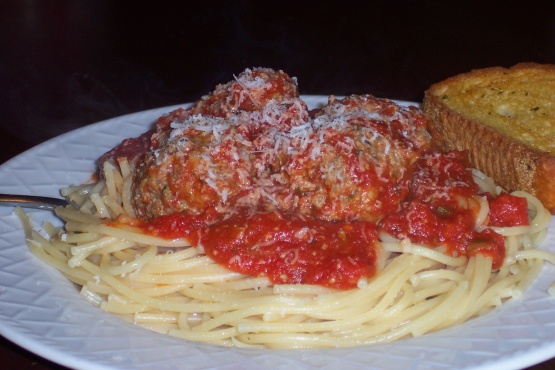 The recipe is just my basic recipe for meatballs. You can add in red pepper flakes if you like spicier meat balls. You can even change it up by changing the herbs you use. Once the meatballs are cook you can combine them in any way you want. They make excellent meatball subs also. If you choose to use fresh herbs be sure to double the amount I used in dried.

I love meatballs and this is similar to one I use so I knew it would be a winner. Baking them before adding them to the sauce is the secret for good texture.The tabasco was a nice addition...don't leave it out. :-)
Preheat the oven to 400 degrees. Mix all the ingredients in a bowl by hand.
Spray a cookie sheet with nonstick cooking spray or oil. Form the meat into golf ball sized balls. Place on the prepared sheet.
Cook for 20-25 minutes. Serve as desired.