Derf2440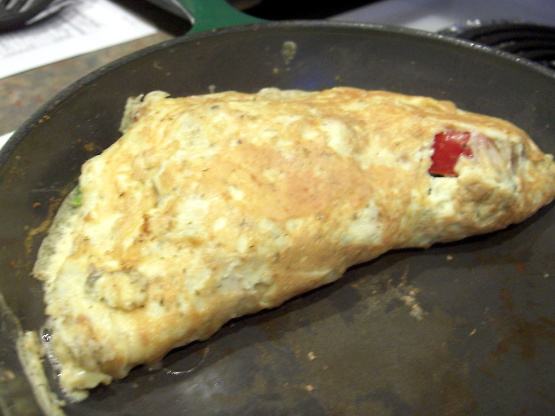 This is a very simple omelette for one. If you are going to add any fillings, make sure to prepare them ahead of time. Feta cheese and dill is a favourite of mine.

I always wanted to know how to make an omelette, but I messed it up the first time I tried to make it using a different recipe than this one. I tried this one and they came out perfectly. Making the small cuts in the egg was a handy tip. I added cheese, onions, bell peppers, and mushrooms and they were delicious! I have now gained my confidence back and will definitely make them again. Thank you for making such a quick and easy recipe available to us.
Crack the eggs into a small bowl and whisk.
Add some salt and pepper, if you like, but do not add any water, milk, or any other liquids.
Heat the oil or butter in a 9-inch non-stick frying pan and pour in the eggs.
In the first 30-seconds of cooking, use a spatula to create 6-10 small cuts through the omelette.
This allows the uncooked egg on the top to flow down to the bottom of the pan.
When the top is nearly set, sprinkle any fillings over half of the omelette and turn off the heat.
Don't worry if some of the egg in the very centre isn't quite set, because the ambient heat will soon cook it.
Use your spatula to flip one half of the omelette over the other and serve immediately.