Prep 10 mins
Cook 30 mins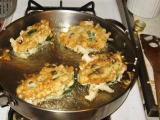 I have to laugh when people rave about my "moist, great-tasting cornbread". The recipe is on the back of the Quaker Corn Meal box and that's where this recipe comes from. It works perfectly every time. I did cut back just a hair on the sugar. The recipe here is a double one because I can't seem to make enough of it to satisfy everyone, so don't be afraid to halve it.
Directions
Pre-heat the oven to 400 degree F.
Mix together all ingredients.
Spray a 13" x 17" half-sheet pan with Pam. (or use two 9" x 13" casserole dishes). Pour in the blended ingredients.
Bake for 25-30 minutes until golden brown on top.
Serve hot with butter.
Most Helpful
Thank you, thank you! I've used the same recipe before but sadly lost it! I've been searching all over the internet for it! This recipe works everytime, in fact I even like to spice it up by adding finely chopped chillies to it.
Very good. Made half the recipe and baked it in an iron-cast skillet. It was done in 30 minutes and next time I'll just remember to put the skillet in the middle of the oven, not on the bottom as I did now. This so as to give the bread more colour on the top. Used soy milk as I wanted it to be non-dairy since we had it with a meat chili. (I don't mix meat and dairy). Easy to make and indeed moist and very good tasting. Yes, we loved it! Thanks for posting.