teresas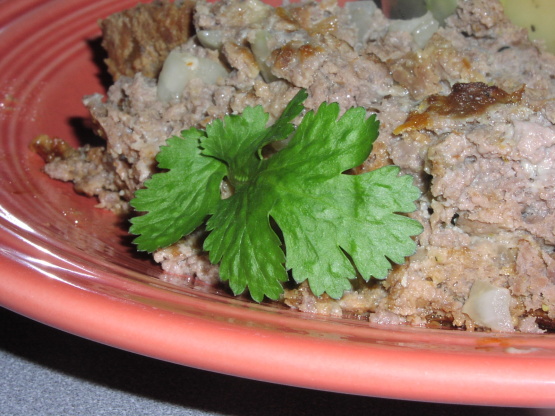 My mother never used a recipe when making meatloaf so I never had one to go by when I grew up. I found this recipe in a magazine at least 35 yrs ago and have used it ever since. In fact, I don't actually use the recipe any more... since it's memorized. Recently, my son asked for the recipe so I suppose I need to enter this in the db for future reference. This is comfort food around here... served with either mashed potatoes or rice, gravy, and peas & carrots. Also makes the best meatloaf sandwiches!

I wanted a basic meatloaf recipe for dinner tonight as I was feeling lazy. After defrosting the meat (I used ground chicken), I realized that I didn't have any eggs. BOO! So, I googled and it said mayonnaise can be used as a substitution. So, I used 1/2 cup of mayonnaise in place of the eggs, but did everything else as directed apart from adding some ketchup to the top for the last 5 minutes. It was very good and very moist (the mayo helped with that I'm sure). I will definitely use this recipe again. Thanks for posting.
Preheat oven to 425 o.
In lg bowl, combine all ingredients, mixing lightly but thoroughly.
Turn into a 9x13" pan and form gently into loaf shape.
Bake 50-60 minutes til done.