Basic Machine French Bread
DonnaSue28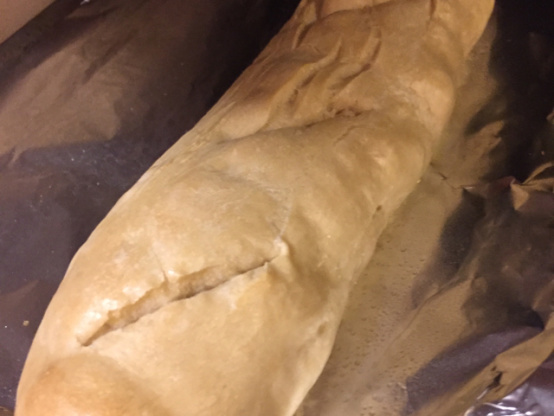 This is my winner with Tammiev and our friends. This recipe is for a 2 pound loaf and has never failed me. I think it is the lack of oil and sugar that they like in this one.

This is one AWESOME bread! I made it on the dough cycle, and then took it out, rolled it out into a 15x8 rectangle and then rolled it up on the 15 inch sides. Then I pinched the edges together to be "seamless" and then rolled it back and forth, gently, to taper the ends (bring to almost a point) and then put it on a greased baking sheet with a little cornmeal. I put a few slits in the top about 1/4 inch deep and brushed on a little bit of cold water all over the top of the loaf. Let it rise for another hour and then used 1 egg white to brush over the top of it, and then baked it at 350 for 25-35 minutes (when it was a golden brown and sounded hollow when I thunked it). This turned out to be one of the best tasting loafs I have ever had! I will make this again and again....no more buying french bread for me!!!
Add to the bread pan in the order yours needs.
For mine it is water first.
Then I add half the flour and the salt followed by the rest of the flour and the yeast on top.
This will run well on the normal, rapid, and delay start cycles.