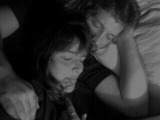 This recipe shows for pork, but you can add thinly sliced beef, chicken, or even use shrimp. You can also add just vegetables for a vegetable lo mein. It's very versatile.
Directions
Mix all sauce ingredients and set aside. To a large skillet or wok, heat oil over medium heat. Add carrots and stir fry for 3-5 minutes.
Add pork and continue to saute' 2-3 more minutes.
Increase heat to medium high and add mushrooms, green onion, garlic, and ginger. saute' 2-3 more minutes. Add linguini and sauce and stir fry until heated through, 1-2 minutes. Serve immidiately.