gailanng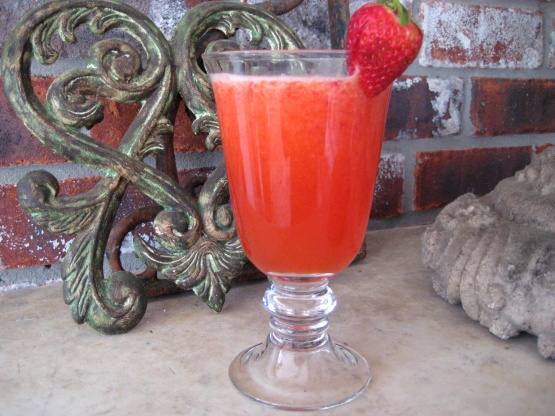 Found in my stash. Source is Dallas Morning News. Great summer drink. I have added Ginger Lemonade in the directons. Also there are suggestions for various fruit and herb ades to add to basic recipe along with some other add-ins and combinations. You are only limited by imagination and taste!
This is sooo good! I used all Splenda, and actually put about 3/4 cup and added mashed strawberries when serving. But, before serving, he he he, wink wink, I topped it off with some Grand Marnier. WOW! Just awesome! Thanks so much for posting! Made for a forum event at KK. (hiccup)
In a saucepan, combine water and sugar and bring to a boil stirring frequently.
Meanwhile, microwave lemons on high for 30 seconds. Roll on counter and slice and juice.
Combine sugar syrup, lemon juice and 3 cups cold water. Adjust lemon juice to taste.
For GINGER LEMONADE add to water and sugar, 2 tablespoons fresh ginger and proceed as above. Allow mixture to cool and remove ginger before mixing with cold water.
Serve over ice. Number of servings is over ice. (You can substitute sparkling water in place of cold water.).
To make other fruit ades, make lemonade ahead of time and chill. Put 2 cups fruit per batch in blender and blend until smooth and then pour back into pitcher of lemonade.
Suggested fruits: strawberries, raspberries, blueberries, peaches, mangos, watermelon.
For Herb Lemonade place 2 or 3 springs fresh herbs into hot sugar water and muddle slightly. Allow to steep before removing. Suggested herbs: mint, thyme, rosemary.
Additional add-ins: rum, Coco Lopez, half-brewed tea.