Basic Herb Marinade and Salad Dressing
2Bleu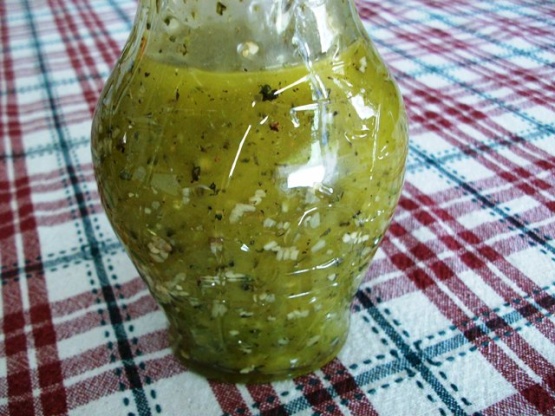 This is a wonderful fresh salad dressing and marinade. The use of the herbs helps the marinade 'cling' to the vegetables making it ideal for grilled veggies. The recipe makes enough marinade or dressing for 1 to 1 1/2 lbs of vegetables. This is another recipe from Andrea Chesman's The Vegetarian Grill, a cookbook I can't recommend highly enough.

You are right, this is ideal for grilling veggies - I really like the fresh oregano in it. I also like how quick and simple it is, the fresh flavours aren't overpowered by a long list of other ingredients. I used some of this tonight with some eggplant and zucchini although I didn't get to grill outdoors. I plan to use the rest of the marinade for grilling veg on the weekend.
Combine all ingredients except olive oil.
Slowly add olive oil, whisking constantly, until oil is emulsified.
May be used immediately or stored in an airtight container in fridge for up to 4 days.