Basic Ham & Beans (Pressure Cooker)
pix1114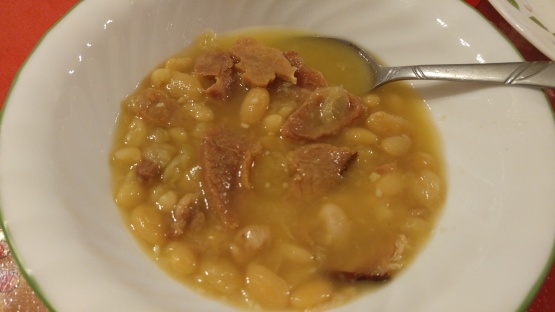 Easy way to make ham and beans and not have to wait all day for it! I have made this recipe to fit into my 5 qt electronic pressure cooker.

This is FABULOUS! And so easy! The first time I prepared it just as the recipe directed. But the beans were still a bit crunchy. So I fired up the cooker for another 25 minutes. PERFECT! I didn't add any additional spices or anything. (I did use our Christmas ham - no bone, just ham pieces - but the flavor was wonderful!)

I will make this again - and again!
Cut up onion, garlic and ham.
Rinse beans and remove any that are discolored.
Place all ingredients in pressure cooker with seasonings to taste.
Turn on high pressure for 25 minutes. (If you have an electronic pressure cooker the meat setting is great for this recipe).
Remove bay leaf.
Serve with cornbread!