Basic Flaxseed Bread (Flax Seed Bread)
Debbwl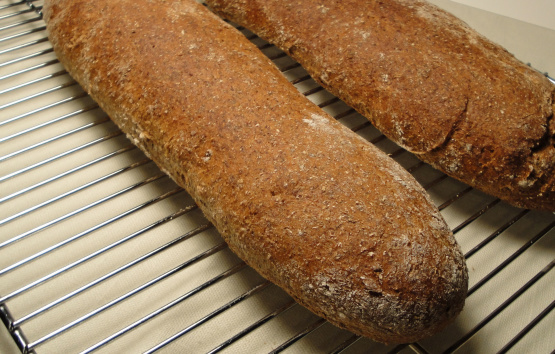 From Fleischmann's Yeast "Bake for the Cure" recipes. What I like about this recipe is that it can be made into a French Bread-like loaf. No need for a pan. Should you want to use regular active dry yeast, proof first and adjust rise times. (Note: I found with the fast rising yeast it took an exhorbitant amount of time to achieve the correct amount of rise. I prefer using regular active dry yeast with the proofing method in warm water and a normal rise time.)
In a large bowl, mix dry ingredients. Stir in the warm water, honey and olive oil until it forms soft dough. Turn out dough onto a floured surface, add more flour if dough is too sticky and knead dough for 5 minutes until smooth and elastic. Cover and let rise for 20 minutes in a warm place.
On a floured surface cut dough in half. Roll dough to form a French bread like loaf. Place on a baking sheet lined with nonstick liner. Lightly flour the bottom of loaf and place on liner. Cover again with clean towel and let rise for about 30 minutes. I found this took much longer for me.
Preheat oven to 375 degrees F. Bake loaves for 30 minutes or until sounds hollow when tapped on bottom.