Basic Family Reunion Coleslaw
Prep 20 mins
Cook 10 mins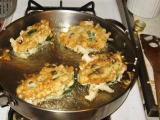 Yep, this is the real stuff that your Great Aunt Martha made for her covered dish at the annual family reunion down at the old home place. No frills but wonderful cole slaw. This is the recipe that I exclusively use on pork barbeque sandwiches too. This cole slaw is NOT "milky-runny," even though it is mayonnaise-based. The original recipe comes from Art Ginsberg ("Mr. Food").
Directions
In a large bowl, combine mayonnaise (don't use Miracle Whip!), lemon juice, sugar and salt.
Add cabbage, carrots and green bell pepper. Toss and refrigerate.
Will keep for three days or more.
Most Helpful
I really enjoyed this slaw with the lemon juice! Thanks Pat! Made for the Cookbook tag game.

Not our cup of tea. Made as directed but missed the vinegar as in other recipes. Sorry.
Your recipe is one of the better ones in that it really doesn't turn into that watery mess that sometimes happens. The leftovers were still fine overnight. I found the slaw itself very mild, not tart or bitter. I will use your recipe again. Thank you for sharing!!!