Dreaming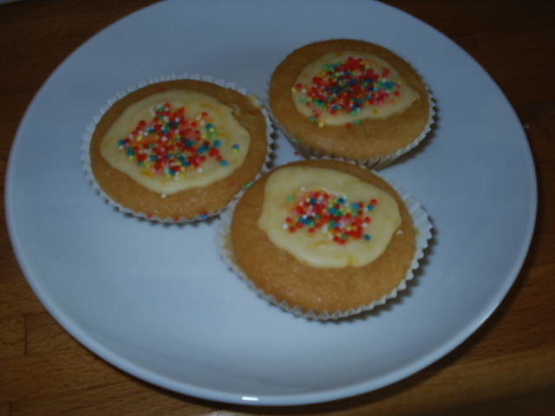 A "white" vegan cake which actually tastes OK! Quick and simple ... nothing fancy. Can be changed about as you like. Suggestions: Add nuts, glace cherries, choc chips, cocoa, lemon/orange rind, coffee etc. to the mix. Add cocoa powder, lemon/orange rind or coffee to the icing or replace water with orange/lemon juice. Decorate with nuts, cherries, coloured strands or grated chocolate. You get the idea! Or they're nice just plain. Sorry if my US conversions are a bit out!
Pre-heat oven to gas 3 / 325f.
MIX: In a large bowl "cream" sugar and marg until smooth.
Sieve flour and soya flour and bicarb of soda (plus cocoa or coffee if using) in to sugar and marg.
Mix well.
Add juice and water.
Add other flavouring(s) if using.
Spoon evenly in to 12 cake cases.
Bake for 25-35 mins, until cakes spring back when poked.
Leave to cool completely.
ICING: Sieve icing sugar (plus falvouring if using) into bowl.
Add water/juice until it is at your desired thickness, stirring it at same time. A little liquid is usually enough!
Spoon onto the cool cakes, adding any decoration on top of unset icing.