Basic Chicken Breasts W/ 4 Variation Toppers
LifeIsGood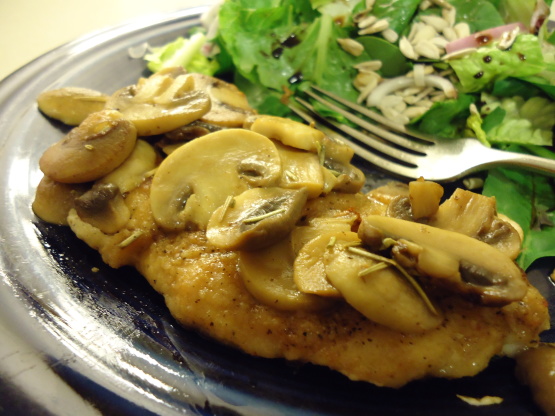 Don't know where I found this one... but I love the idea of changing it up with just a few different ingredients-- besides it inspires you to think of even more ways to try it!

Well, I have to comment first of all on some other reviews. The flour is not there to keep the chicken moist. It helps with browning and thickening the sauce. I made the mushroom-wine sauce. This does not make much sauce, so there is no reason to cut back. In fact, if you were serving this with rice or pasta or mashed potatoes, I'd recommend doubling or tripling the sauce. The amounts of liquid listed are not soupy at all--there is very little liquid in the finished dish. The recipe is excellent; I'd like to try some of the other variations. Thanks for posting!
Mix flour, salt & pepper in large baggie. Add chicken and shake to coat.
Heat oil in skillet- cook chicken 8 minutes turning once and remove the chicken from the skillet. Then using same skillet make one of the variations of toppers.
For Mustard-Caper Topper: Saute the red onion in butter. Add the chicken broth, dijon mustard and capers. Cook for 4 minutes. Spoon over chicken.
For Mushroom-Wine Topper: Saute mushrooms in butter. Add wine, chicken broth and rosemary. Simmer for 4 minutes. Spoon over chicken.
For Carribean Topper: Heat pineapple and apricot preserves with jalepeno. Cook 4 minutes, remove from heat and add lime juice and cilantro. Spoon over chicken.
For Tomato- Artichoke Topper: Heat tomatoes, artichokes and balsalmic vinegar. Cook 4 minutes. Spoon over chicken and sprinkle with mozzerella cheese.