This is a basic cheese sauce that you can spruce up with any herbs or spices you may like. I like this sauce with baked potatoes.
Directions
Melt butter in heavy saucepan on top of stove.
Add flour and stir until well mixed and bubbly being careful not to scorch.
Remove from heat and add milk; stirring until well blended.
Return sauce to heat and bring to a boil, stirring constantly.
Reduce heat, add shredded cheese and parmesan and cook until cheese melts and there is no taste of raw starch.
Add salt and pepper to taste.
Reviews
Most Helpful
I love this recipe! I'm only 13 so i don't know too much about cooking but it was simple and so easy to follow! Thanks for posting! Definetly 5 stars! :)
As a basic cheese sauce it was good. I highly recommend using a sharp cheese, such as sharp cheddar. We used mild at first and it was missing something, we added a little more milk and 1/2 of sharp cheddar and then it was really good. Thank you for the recipe!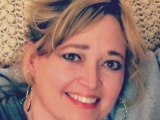 I added more cheese and less milk for a cheesier and thicker sauce. Our kids just loved it and have asked if I could make this instead of Kraft dinner, which is usually a treat for them, because they don't get it often! Made for 1-2-3 tag