Carey C.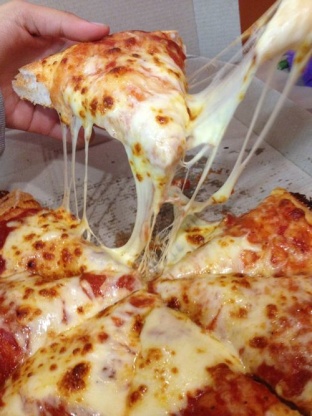 I LOVE New York pizza, moving to kc 6 years ago - I had a rude awakening! The pizza was TERRIBLE! - so I've been making this ever since... it's my own recipe, but I've made it so many times I can do it with my eyes closed. This recipe is foolproof, and I hope you enjoy it Note: you may want to add more cheese and sauce. Also, this is just the base - I add turkey Italian sausage and mushrooms, and sliced zucchini and prosciutto to keep it tasty and healthy!

I just tried this recipe and it was GREAT. I have spent many wasted hours on other recipes that made me feel that I was lacking but this one is defiantly a keeper. I did make a few minor changes however. In step four I tossed in some ramano cheese, dried oregano, and garlic powder. Also, I pre-baked the crust before I added my toppings but before doing so i placed string cheese around the edge of the crust and folded some of the dough over it while firmly pinching the crease. Then i used the prongs of a fork to score the seal and to further insure that it would not come undone while baking I brushed the seal with egg yolk. MMMMM talk about tasty cheese stuffed crust!!! As for the pizza sauce I found this wonderful sauce(Recipe #114392) that made me think I was in pizza heaven :)
Dough:.
In a glass or plastic bowl, combine yeast, water, and sugar (the water can just be water from the tap, make sure it's below 100°F).
Stir to dissolve the yeast and let the yeast "bloom" for 15 minutes.
Stir in 1 cup flour, add salt, and then stir in another cup of flour (the remaining cup of flour will be your "bench" flour and added flour).
Dump mixture onto kneading board and work in last cup of flour, kneading until dough is soft and elastic, but not sticky. Form dough into a ball.
In another bowl, pour in the 1 tbsp olive oil and spread around.
Coat ball of dough with oil and cover bowl with a damp towel and let dough rise for 40 minutes.
Punch down dough and knead on board about 2 minutes. Dough is now ready to spread in the pan.
To avoid sticking of crust, lightly spray pizza pan with olive oil or vegetable oil spray and then work dough to pan (or use free form pan) - this dough is enough for 1 14-in pizza with a thin bottom crust and enough dough around the edge to munch.
Sauce:.
Combine pureed tomatoes, tomato paste, minced garlic, and basil.
Spread onto prepared pizza dough.
Top with sliced mozzarella cheese and bake at 500°F for 11-13 minutes.