Basic but Beautiful Sourdough Bread
SaraFish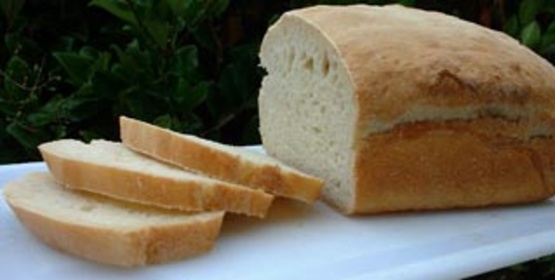 I like to bake these in 8 inch round pans, making a pretty loaf that's low on effort and very light. It's the first sourdough recipe I tried and I think it makes a good place to start if you're new to the whole process. The prep time includes rising times, but this could vary depending on how quickly your starter rises. Mine seems to be pretty quick.
This is a very good white sourdough bread. I also used my bread machine on the dough cycle but DID NOT let it rise in the machine. Sourdough breads made with wild yeast...rise better if they are only raised once. (I used a wild yeast starter.) I removed the dough after the kneading stopped. (20 -30 min in most machines) Then I sprayed the dough with Pam, shaped it into a loaf and placed it into a large greased stonewear loaf pan, which I covered lightly with plastic wrap. I let the dough raise for about 3-4 hours and got a nice light texture as a result. It was done in 33 minutes. Thanks Sackville Girl.
Pour the sponge in a bowl and add the sugar, salt and oil or margarine.
Mix well and then knead in the flour a half-cup at a time.
Knead in enough flour to make a good, flexible bread dough- you may use slightly more or less than the three cups indicated, depending on how runny your starter is.
Just keep adding until it looks like any other bread dough.
You can add the flour by hand, with an electric mixer, a bread machine on dough cycle or a food processor.
Find a warm place and let the dough rise, covered loosely by a towel (I use my airing cupboard but a slightly warm oven works well too-- don't keep it on, just turn it on for a moment to warm it up before turning it off and putting the dough in).
If you're using a bread machine's dough cycle, let it rise in the machine.
Note that sourdough rises more slowly than yeast bread.
Just let it keep going until it's doubled in bulk.
Punch the dough down and knead it a little more.
Make a loaf and place it on a lightly greased baking sheet.
Slit the top if you like, and cover the loaf with a paper towel and place it in a warm place to rise again, until doubled in bulk.
Place the pan with the loaf in your oven, and then turn your oven to 350 F or 190 C and bake the bread for 30-45 minutes.
Do not preheat the oven.
The loaf is done when the crust is brown and the bottom sounds hollow when thumped with a wooden spoon.
Turn the loaf out onto a cooling rack or a towel and let it cool for an hour before slicing.