Naal191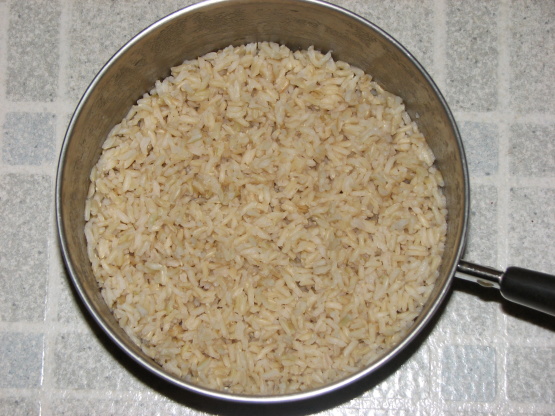 This is just plain brown rice - I serve it with curries and stir frys as a healthier alternative to plain white rice. I don't remember any more where I got this recipe, but it has worked the best of any brown rice cooking directions that I have found.

This cann't possibly work. I cook with brown rice all the time. Tried this and no luck. When I cook my brown,long grain regular not instant rice.I first of all double the water. 2c rice= 4 c water. I bring it to a boil. Reduce to simmer. Cover and it takes almost 40 minutes. The only way I have been able to shorten this up, was by pre-soaking the rice in boiling water for 10-15 minutes. Drain and proceed.
Put water in a medium sauce pan that has a lid.
Add salt and rice and stir once.
Heat to a full rolling boil.
Place lid on pan and reduce heat to simmer (my stove only does a very "high" simmer).
Simmer for 20 minutes. *Do not lift lid or stir.*.
Turn off heat. *Do not lift lid or stir.*.
Let sit at least 10 minutes before serving. The longer you let it sit, the more the rice improves. I often lift the lid and fluff-stir the rice at 10 minutes, then replace the lid and let the rice rest while I prepare the rest of the meal.