Stacky5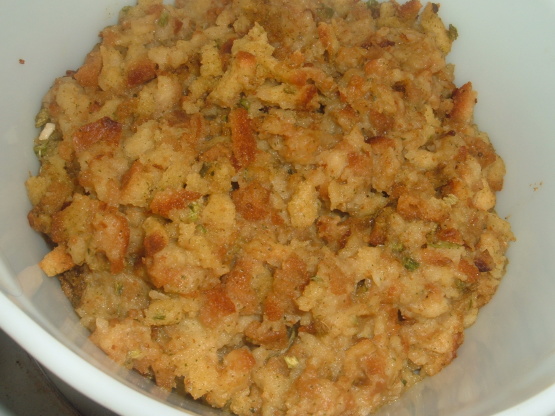 This was my Mom's staple recipe every Thanksgiving for stuffing....Sometimes she would add some chopped giblets to it, but usually she made it exactly like this...It's VERY simple and basic, but very home-made and very comforting!!! She hand-wrote this recipe for me many years ago the first time I tried to cook a Thanksgiving meal at my house. :)

Top Review by Kasha
This is a special review in honor of Stacky's memory at Zaar in a cook a thon in her honor. She will be missed, but her recipes will go on to be enjoyed by people for a long time to come! Very nice recipe anyone would love. Very rich with the addition of the butter, I would maybe cut down a bit there. Love the old fashioned sage taste, perfect for the upcoming holiday.
Combine bread, onion, celery and all seasonings. Add melted butter. Toss gently to mix. Then add hot broth to moisten to desired consistency (but be careful NOT to make it soggy; a little dry is best since it will retain juices from cooking inside the turkey).
Stuff into the cavity of the turkey before roasting, if desired.
OR: Pour all into a large casserole and bake in a preheated 350 degree oven for 35-45 minutes, not letting the top get too crispy.
NOTE: Allow 1 cup stuffing for each pound of poultry.