A fast easy dinner. Makes excellent leftovers. This was my "beginner vegan" recipe. I got it off the web somewhere, and we practically lived on it for the first 3 months. This goes over well at potlucks too -- just mix cooked rice in with the beans before you take it.
Directions
Heat olive oil in large skillet, saute onions, garlic and spices until onions are soft but not clear.
Add beans and tomatoes, cook until bubbly.
Reduce heat to low, cover and cook 10 minutes.
Add salt if necessary.
Serve over hot cooked rice or cornbread.
Most Helpful
Soooo gooood! And gawsh, it's so quick and easy too! The combination of spices in this dish is outstanding, and I can't think of any tweaking that this recipe needs! Thanks Linorama, this was great! :)
I've been eyeing this recipe for years and finally made it. The spices and consistency were terrific! It was easy to make! BF loved it and said "black beans are so underappreciated!' Wow. I used fresh tomatoes and didn't bother to peel them. No other changes, but I added hot sauce the next day to the leftovers. I would definitely make this again. Adding to my fast but good cookbook.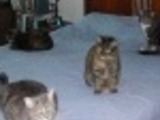 Excellent! I added about a quarter cup of sharp cheddar cheese. Yum!