Dawnab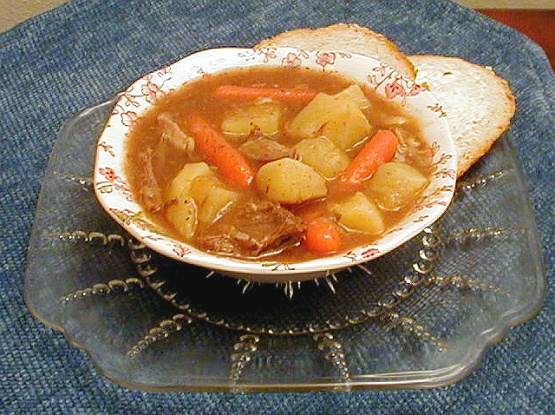 Only 7 ingredients, no tomatoes, no soup mixes, just a crock pot. I put the meat in before work, add the veggies when I get home and have a great meal quick. I often peel the taters and put them in the fridge covered with water until its time to throw them in, cuts after work prep time.

If you just follow the recipe as written here, it's terrible! I noticed the other reviewers made some pretty significant changes. I don't know what kind of crock pot you have, but my potatoes were still completely raw after 45 minutes! It needed to cook at least an additional hour. Plus this was really bland. I had to add quite a bit of salt. Beginning cooks (those who would be using a "Basic" recipe) should be warned that adjustments to this recipe need to be made.
In a crockpot, place roast (whole) add onion, garlic and beef broth. Salt and pepper if desired.
Cook on lo for 6-8 hours (I plug it in before I go to work).
Remove beef, cube and return to crock pot. Add potatoes and carrots, cook for 45 minutes.
Combine cornstarch with a little water, add and cook 15 more minutes until thickened.
I serve with crusty bread and a salad.