Base Jello Shots Recipe With Fruit Floaters
Demandy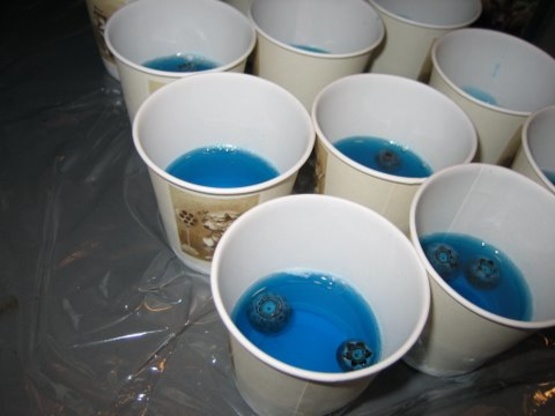 This is a base recipe so you can work with what jello and/or liquor you already have in your bar. Usually it's best to model the shot after an already existing drink, or to use plain vodka or light rum with a fruit flavor and using the same type of fruit as a floater. Cooking time is chill time.

Thanks Panthur for helping a total dweeb out! I've must be the only person on the planet that's never made jello shots, but your recipe help me out. Left out the fruit juice and berries. FYI- if anyone is looking for a good place to get the smaller cups normally used for jello shots, look in the pharmacy section of most stores, or go to a medical supply store (I know- just plain wrong on so many levels). Happy New Year!
1

(6 ounce) boxfruit flavored Jello gelatin (large box) or 1 (5/8 ounce) boxfruit flavored sugar-free jello (large box)

2

cups boiling water
1 1⁄4-1 1⁄2 cups cold water or 1 1⁄4-1 1⁄2 cups ice water

36

small paper cups
1⁄4 cup fruit juice (optional)

6

ounces berries (optional) or 6 ounces fruit slices, for floaters (optional)
To make this easier, you may want to have a two quart pitcher with a handle and a pour spout to mix it with and then to pour it into the shot cups.
First boil the water and then put it in the pitcher. Then add the package of gelatin. Stir, or shake, if your container has a tight fitting lid, to dissolve.
Add cold water or equivalent amount of ice, fruit juice, and then liquor. Definitely use ice instead of the cold water if you are having the party in less than 4 hours because it will solidify faster. Taste to ensure there is enough liquor and consider adding more. If you use a citrus juice then you can add more liquor. Do NOT use pineapple juice, it will interfere with the gelatin setting.
Pour the mixture into 3 oz Dixie cups, filling 2/3 full (after all, you want enough of these to go around). I normally lay down a sheet of wax paper, and then pour the cups and place them on a cookie sheet. If you do two batches you can place the cookie sheets on top of each other in the fridge.
Drop small fruit slices or an individual berry into each shot cup for a classy touch. Then chill for at least 3 hours.
To bring them to your friend's party, find a cardboard box. Fill the bottom layer with shots. Lay another piece of cardboard on top of that layer and fill that layer with shots, and so on. They should make the journey with no problems.