Gatorbek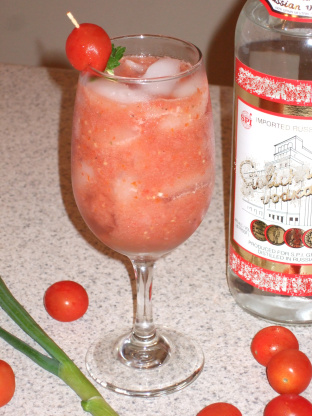 From: "Complete Home Bartender's Guide" by Salvatore Calabrese. "A tangy flavor will start the day with a zing and this sure fits the moment."

I have to say this wasn't what I expected - if you're thinking Bloody Mary, this isn't it! However, this was VERY refreshing. Kind of like a liquid bruschetta... actually, a lot like that! This would be nice on a steamy Florida Sunday morning reading the paper on the hammock. Thanks, I can't wait for the heat now!
Pour all ingredients into a blender without ice.
Blend until smooth.
Strain into a highball glass filled with ice.
Garnish with a cherry tomato and basil leaves on a cocktail stick if desired.