Barley, Wild Rice, and Cranberry Pilaf
pammyowl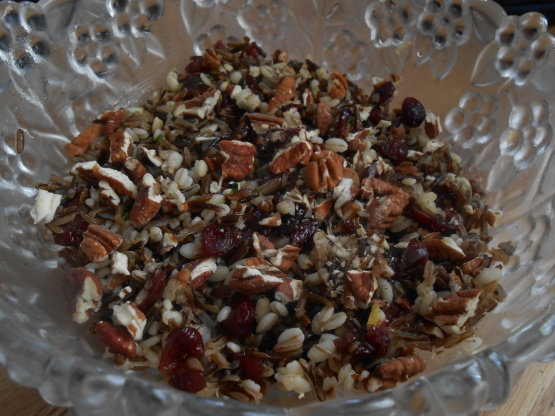 A great side dish - the flavors go well with Thanksgiving dinner. The recipe says serve at room temp, but we re-heated it and served it warm. Everyone really liked it.
In medium saucepan with lid, boil water, add barley, wild rice and salt. Return to boil, reduce heat to low, cover and cook about 40 min or until barley is tender.
While barley and rice is cooking, pour orange juice over cranberries and set aside.
Drain any excess liquid from cooked barley and rice mixture. Place rice and barley in large bowl.
Drain cranberries, reserving liquid.
Toss cranberries with barley and rice.
Mix 5 tbsp orange juice with lemon juice and onion. Whisk in olive oil and season to taste with salt and pepper. Pour dressing over barley mixture.
Add chopped parsley and walnuts. Mix well. Serve at room temperature or chilled.