Barley Soup With Root Vegetables
loof751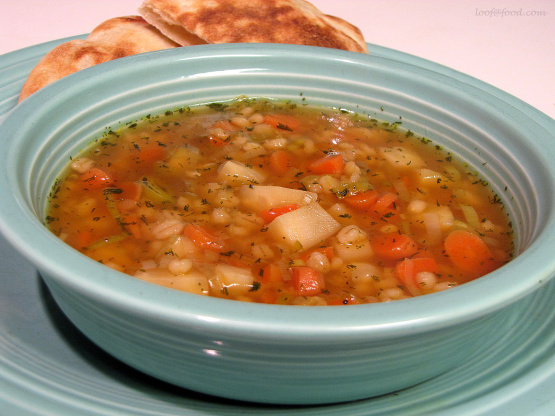 Nutty tasting barley and sweet celery root turn this soup into comfort food! To speed up cooking time, replace the pearl barley with quick-cooking barley, add it with the carrots and celery root and simmer the soup for about 20 minutes total. Adapted from Vegetarian Times magazine(2006).

Lovely vegetarian soup! It brought back memories of my Moms barley soup that she made with leeks. I did find that I missed the heartiness of the meat and OR mushrooms. The dill and lemon made this more of a summer soup making it nice and light. So I wil try it in warmer weather. For barley is one of my favorite grains. Thanks
Heat oil in large pot over medium heat. Add leeks, and cook 5 minutes, or until softened, stirring often. Add garlic, and sauté 30 seconds. Stir in barley. Add 7 cups water and bouillon cubes.
Bring soup to a boil. Reduce heat to low, skim off any froth, cover and simmer 20 minutes.
Add carrots and celery root. Cover, and simmer 20 to 25 minutes more, or until barley and vegetables are tender.
Just before serving, stir in dill, lemon juice and black pepper to taste. Enjoy!