Barley & Mushroom Stuffed Green Bell Peppers
loof751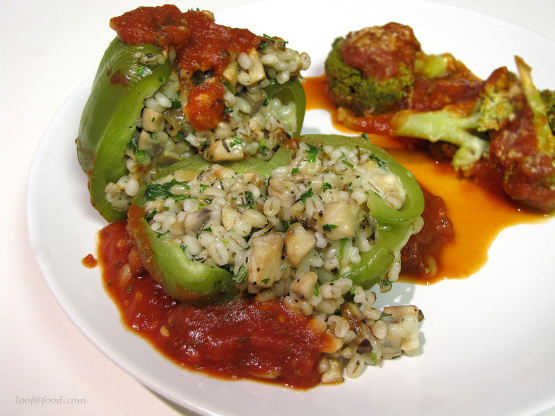 Vegetarian green peppers stuffed with barley and mushrooms

This is a great recipe. My husband commented how similar the texture of the barley is to ground meat, so you don't really feel like you are missing anything. I had big peppers, so I halved them and that worked just fine. Next time I might add more mushrooms, but otherwise they were perfect as posted.
Preheat oven to 350°F.
Heat the oil in a large skillet. Add mushrooms and onions and cook, stirring until the onions are browned.
Stir in the barley, parsley, thyme and pepper (ground). Stir in the cheese; set aside.
Rinse the bell peppers. Cut off the tops; remove and discard the seeds and pith.
If necessary, make a thin slice on the bottom of each pepper to balance. Spoon 1/4 of the mixture into each pepper.
Stand the peppers upright in a baking dish just large enough to accommodate them.
Pour the sauce into the baking dish.
Bake 30 minutes or until the peppers are tender.