MsBindy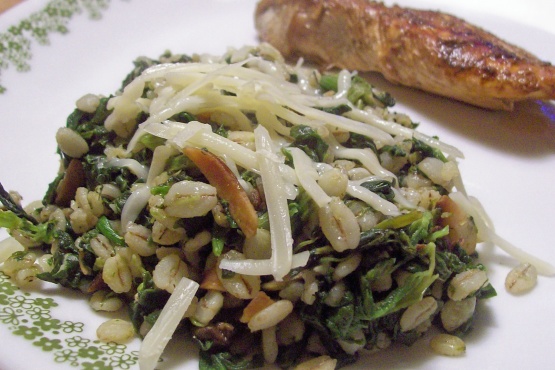 I love barley and I love mushrooms, this is a really good and out of the ordinary potatoe/rice side dish.

I really liked the way that the spinach and cheddar complemented each other. I had seriously considered omitting the cheese, but having tasted it, decided that the cheese is absolutely essential to this dish. I used almonds rather than walnuts, because that is what I had on hand. And I accidently used a 16-ounce package of spinach.
Cook barley according to package directions until tender.
Meanwhile wash mushrooms and pat dry.
Heat olive oil in a wide skillet over medium-low heat.
Add nuts and let them cook for a few minutes before adding garlic.
Add garlic to skillet.
Slice mushrooms thinly and when nuts are nicely toasted add the mushrooms.
Increase heat to high.
Add the spinach, dill, salt and 1/2 teaspoons pepper. Stir.
Cook until mushrooms are softened and somewhat shrunk.
The barley should now be cooked dry and be tender by chewy. (If it tastes done but still has water around it, drain excess water.).
Mix barley with the spinach mixture and 1/2 the cheese.
Serve on plates with remaining cheese.
Excellent with garlic toast.