Barley Minestrone With Pesto
JustJanS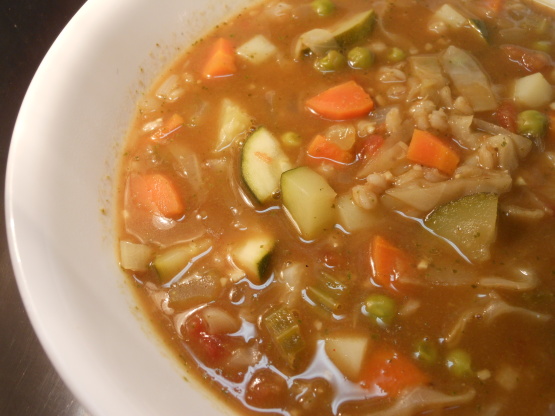 A nice, hearty soup with barley, veggies and some basil/garlic pesto. You can vary the vegetables as you wish. This soup would be delicious with some crusty bread and a salad. Prep time does not include soaking time for barley.

What a nice soup and you can make it in a flash. I had not soaked my barley so I just rinsed it and put it in the rice cooker to cook while I did the prep of the rest of the ingredients. I did saute the hard veggies for a few minutes in just a splash of olive oil, I think that really enhances the flavor of the vegetables. I also added a bay leaf as I think all vegetable soups benefit from bay. I would not use cabbage again, I did not care for it. I would rather add some spinach. Barley is such a great grain and it works very nicely with the rest. This soup is vegan but I am not so I used some pesto I had which was made with cheese and also topped the soup with big curls of shaved parmesan as a garnish.
Place the barley in a pan, cover with cold water, and bring to a boil. Cook for 25-30 minutes until tender; then drain.
In a large pot, combine all vegetables with the stock and bring to a boil, then lower the heat and simmer for 15 minutes until the vegetables are just tender.
To make pesto, place the basil and garlic in a blender; add 1/2 cup of the vegetable cooking liquid and blitz to a smooth puree.
Add the puree to the soup, stir until combined, then add the cooked barley. Season with black pepper and serve.