Barley-Butternut Squash Pilaf
WiGal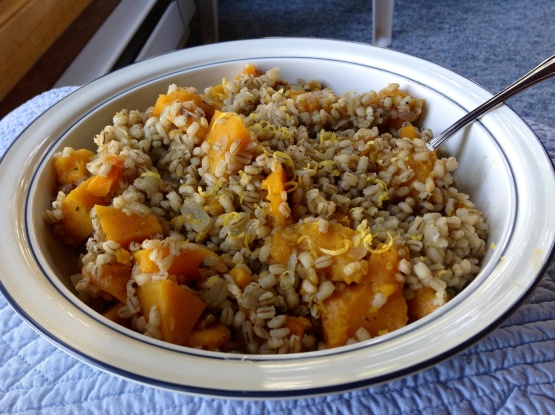 This recipe was one of the top recipes published in 2008 by the Chicago Tribune newspaper in the Good Eating section. It was adapted from "The Woman's Day Cookbook for Healthy Living." The lemon zest provides a surprising zing.

Wonderful recipe! I was cleaning up saved recipes & was going to post but you did it for me! This one is really delish! Thank you for posting Marz! Another keeper for my "grains, rice & beans" cookbook!
Heat oil in a dutch oven over medium high heat; add squash, onion a bell pepper. Cook 3 minutes, stirring often. Add barley; cook, stirring often, until toasted slightly, about 3 minutes.
Add broth, water, sage thyme, salt and pepper to taste. Cover; heat to boil. Reduce heat to a simmer; cook covered until barley is just tender about 35 minues. Remove from heat, stir lemon zest.